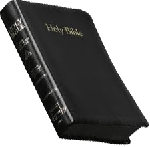 Scriptures to Bring Comfort
– compiled by Gorden and Jacki after the loss of Dusty
(Scriptures taken from "The Amplified Bible" – all emphasis mine)
---
Psalm 23:4
Yes, though I walk through the deep, sunless valley of the shadow of death, I will fear or dread no evil, for You are with me; Your rod (to protect) and Your staff (to guide), they comfort me.
---
Psalm 25:14-17
The secret (of the sweet, satisfying companionship) of the Lord have they who fear (revere and worship) Him, and He will show them His covenant and reveal to them its deep, inner meaning. My eyes are ever toward the Lord, for He will pluck my feet out of the net. Lord, turn to me and be gracious to me, for I am lonely and afflicted. The troubles of my heart are multiplied; bring me out of my distresses.
---
Psalm 30:5b
Weeping may endure for a night, but joy comes in the morning.
---
Psalm 30:11
You have turned my mourning into dancing for me; You have put off my sackcloth and girded me with gladness.
---
Psalm 31:7
I will be glad and rejoice in Your mercy and steadfast love, because You have seen my affliction; You have taken note of my life's distresses.
---
Psalm 31:24
Be strong and let your heart take courage, all you who wait for and hope for, and expect the Lord!
---
Psalm 34:18
The Lord is close to those who are of a broken heart and saves such as are crushed with sorrow…
---
Psalm 94:17-19, 22
Unless the Lord had been my help, I would soon have dwelt in the land where there is silence. When I said, My foot is slipping, Your mercy and lovingkindness, O Lord, held me up. In the multitude of my anxious thoughts within me, Your comforts cheer and delight my soul!
…But the Lord has become my High Tower and Defense, and my God the Rock of my refuge.
---
Psalm 119:50
This is my comfort and consolation in my affliction: that Your Word has revived me and given me life.
---
Song of Solomon 2:4
He brought me to the banqueting house, and His banner over me was love (for love waved as a protecting and comforting banner over my head when I was near Him).
---
Matthew 5:4
Blessed and enviably happy (with a happiness produced by the experience of God's favor and especially conditioned by the revelation of His matchless grace) are those who mourn, for they shall be comforted!
---
Matthew 5:5
Blessed (happy, blithesome, joyous, spiritually prosperous—with life-joy and satisfaction in God's favor and salvation, regardless of their outward conditions) are the meek (the mild, patient, long-suffering), for they shall inherit the earth!
---
Romans 1:12
That is, that we be mutually strengthened and encouraged and comforted by each other's faith, both yours and mine.
---
2 Corinthians 1:3-4
Blessed be the God and Father of our Lord Jesus Christ, the Father of sympathy (pity and mercy) and the God Who is the Source of every comfort (consolation and encouragement), Who comforts (consoles and encourages) us in every trouble (calamity and affliction) so that we may also be able to comfort (console and encourage) those who are in any kind of trouble or distress, with the comfort (consolation and encouragement) with which we ourselves are comforted (consoled and encouraged) by God.
---
2 Corinthians 7:4b
I am filled (brimful) with the comfort (of it); with all our tribulation and in spite of it, I am filled with comfort, I am overflowing with joy.
---
2 Corinthians 7:6
But God, who comforts and encourages, and refreshes and cheers the depressed and the sinking, comforted and encouraged and refreshed and cheered us…
---
1 Thessalonians 3:7
…in spite of all our stress and crushing difficulties, we have been filled with comfort and cheer about you because of your faith (the leaning of your whole personality on God in complete trust and confidence).
---
Psalm 5:11
But let all those who take refuge and put their trust in You rejoice; let them ever sing and shout for joy, because You make a covering over them and defend them; let those also who love Your name be joyful in You and be in high spirits.
---
Psalm 16:11
You will show me the path of life; in Your presence is fullness of joy, at Your right hand there are pleasures forevermore.
---
Psalm 51:11-12
Cast me not away from Your presence and take not Your Holy Spirit from me. Restore to me the joy of Your salvation and uphold me with a willing spirit.
---
Psalm 126:5
They who sow in tears shall reap in joy and singing.
---
Psalm Isaiah 61:1-3
The Spirit of the Lord God is upon me, because the Lord has anointed and qualified me to preach the Gospel of good tidings to the meek; the poor, and afflicted; He has sent me to bind up and heal the brokenhearted, to proclaim liberty to the (physical and spiritual) captives and the opening of the prison and of the eyes to those who are bound, to proclaim the acceptable year of the Lord (the year of His favor) and the day of vengeance of our God, to comfort all who mourn, to grant (consolation and joy) to those who mourn in Zion—to give them an ornament (a garland or diadem) of beauty instead of ashes, the oil of joy instead of mourning, the garment (expressive) of praise instead of a heavy, burdened, and failing spirit— that they may be called oaks of righteousness (lofty, strong, and magnificent, distinguished for uprightness, justice, and right standing with God), the planting of the Lord, that He may be glorified.
(Note: It meant so much to me to realize that one of Christ's purposes in coming was to "comfort all who mourn"… )
---
Isaiah 61:7
Instead of your (former) shame you shall have a twofold recompense; instead of dishonor and reproach (your people) shall rejoice in their portion. Therefore in their land they shall possess double (what they had forfeited); everlasting joy shall be theirs.
---
Habakkuk 3:17-19
Though the fig tree does not blossom and there is no fruit on the vines, (though) the product of the olive fails and the fields yield no food, though the flock is cut off from the fold and there are no cattle in the stalls, yet I will rejoice in the Lord; I will exult in the (victorious) God of my salvation! The Lord God is my Strength, my personal bravery, and my invincible army; He makes my feet like hinds' feet and will make me to walk (not to stand still in terror, but to walk) and make (spiritual) progress upon my high places (of trouble, suffering, or responsibility)!
---
Zephaniah 3:17
The Lord your God is in the midst of you, a Mighty One, a Savior (Who saves)! He will rejoice over you with joy; He will rest (in silent satisfaction) and in His love He will be silent and make no mention (of past sins, or even recall them); He will exult over you with singing.
---
John 17:13
(Jesus speaking) And now I am coming to You; I say these things while I am still in the world, so that My joy may be made full and complete and perfect in them (that they may experience My delight fulfilled in them, that My enjoyment may be perfected in their own souls, that they may have My gladness within them, filling their hearts).
---
Nehemiah 8:10b
…And be not grieved and depressed, for the joy of the Lord is your strength and stronghold.
(Note: This does not mean we are to never feel grief or sadness—but that we should not allow ourselves to fall into a deep pit of depression that we get stuck in. We are to grieve for a season, and then move past the grief…)
---
Revelation 21:3-4
Then I heard a mighty voice from the throne and I perceived its distinct words, saying, See! The abode of God is with men, and He will live (encamp, tent) among them; and they shall be His people, and God shall personally be with them and be their God. God will wipe away every tear from their eyes; and death shall be no more, neither shall there be anguish (sorrow and mourning) nor grief nor pain any more, for the old conditions and the former order of things have passed away.
HALLELUJAH!
---
And lastly, our prayer for you who are mourning, depressed, or just stressed out and discouraged…
2 Thessalonians 2:16-17
Now may our Lord Jesus Christ Himself and God our Father, Who loved us and gave us everlasting consolation and encouragement and well-founded hope through His grace (unmerited favor), comfort and encourage your hearts and strengthen them (make them steadfast and keep them unswerving) in every good work and word…