Eternity… Non-Smoking
NOTE: Scriptures marked KJV are from the King James Version of the Bible; those marked NLT are from the New Living Translation.
---
---
Now, how can you accept and receive this free gift of eternal salvation? The answer is found in the following steps:
---
Are you ready to receive God's free gift?
If you are, you need to call on Him in prayer. You may pray your own prayer. Or, if you need help in praying, you may use the following "sinner's prayer" if you truly make it your own confession:
Lord Jesus, I know I am a sinner and need your forgiveness. I know you died on the cross for me. I now turn from my sins and ask you to forgive me. I now invite you into my heart and life. I now trust you as Savior and follow you as Lord. Thank you for saving me. Amen.
Did you ask Jesus to forgive you of your sins?
Did you ask Him to save you?
Did you give Jesus complete control of your life?
If so, welcome to God's family!
Why not pause for a moment and thank Him for saving you…
---
What does Jesus want you to do now?
First, He wants you to have assurance of your salvation. You can be certain you have eternal life…
---
Second, as evidence of giving Jesus control of your life, He wants you to publicly confess Him and follow Him in baptism and church membership.
---
Third, Jesus wants you to grow into a strong, faithful disciple.
There are four absolutes in growth:
Food. Spiritual food is God's Word (the Bible). You should read it, study it, memorize it, practice it, and hear it taught and preached. You can find several translations of the Bible online, along with a search feature and many other helpful Bible study tools at: Bible Gateway. If you're new to Bible reading, a very easy-to-understand edition, including an online search, can be found at: New Living Translation.


Breathing. Spiritual breathing is prayer. Spend time every day talking to God about everything you do; about your needs and problems; about family and friends; and tell Him how much you love Him and how grateful you are.


Exercise. Spiritual exercise means helping others, witnessing, giving time and energy to God's work, and being a living testimony to the world you live in.


Rest. Spiritual rest means worship—both public and private worship. Rest means being still and waiting on God. It means physical and spiritual renewal.
---
Fourth, Jesus wants you to experience victory over sin in your daily life.
So, when you sin, don't try to deny it or excuse it. Rather, name your sin to God, and rest in His promise of forgiveness.
---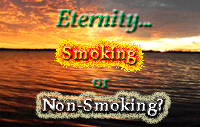 Don't put it off another day!!! The biggest lie of the devil is that you have "plenty of time" to make this decision! The Lord even led Jacki and her brother, Marc, to write an original song about this very subject since so many people think they have all the time in the world! To hear the song, click on the following link:
---
Scripture quotations marked (NLT) are taken from the Holy Bible, New Living Translation, © 1996. Used by permission of Tyndale House Publishers, Inc., Wheaton, Illinois 60189. All rights reserved.